THE AMERICAN PRESIDENCY: A THEATRICAL RESPONSE
NOVEMBER 7-18, 2012
24 HOURS LATER: A PRESIDENTIAL SURVIVAL GUIDE
New plays by Alisha Adams, Tommy Butler and Robin Rodriguez
Directed by Mark Kennedy, Malika Oyetimein and James Stover
Starring: Amanda Atkinson, Marci Chamberlain, Emily Gibson, Jenna Horton, Laurel Hostek, Aaron Lofton, Cathy Mostek, Iraisa Ann Reilly and Robert Stineman.
Kicking off just before the polls closed on November 6th, three original plays were created in the wake of the presidential decision.  After working through the night, the plays were produced by a full team of designers, directors and actors for two performances at 7 and 9 pm on the night of November 7th.
VOICES OF A PEOPLE'S HISTORY OF THE UNITED STATES
Co-Presented by Iron Age Theatre and South Camden Theater Company
Co-Directed by Daniel Student and John Doyle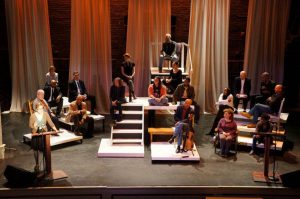 Also starring: Chuck Beishl, Richard Steven Bradford, Tina Brock, John Cannon, Marci Chamberlain, Gregory Winston Day, K.O. Delmarcelle, Tiffany Joyner, Alaina Nelson, Bill Rahill, Roderick Slocum, Peggy Smith, Daniel Student, James Tolbert III, Damien Wallace, Bob Weick, Leila Wright and Kara Zhang.
Voices brings to life the extraordinary history of ordinary people who built the movements that made the United States what it is today, ending slavery and Jim Crow, protesting war and genocide, advancing gay and women's rights, and struggling to right wrongs of the day.
"By giving public expression to rebels, dissenters, and visionaries from our pastand present VOICES seeks to educate and inspire a new generation working for social justice."
-New Jersey Stage
" Zinn firmly believed that in order to tell the true and complete story of America, it had to be told not only through the experiences and contributions of the famous and rich and powerful, but also through the eyes of ordinary people, particularly those who were oppressed or discriminated against, as well as dissenters, social activists and visionaries."
-Montgomery News
THE REPUBLICAN THEATRE FESTIVAL
Produced by Forearmed Productions and Cara Blouin
Featuring: Propaganda by Mike Long, Occupy This by CJ Ehrlich, Battle Hymn by Ludmilla Bollow, 501(c) Me by David Marcus, The Abortion Bomb by Basil Considine, Home from College by Eric Balchunas, Downsizing Undercoat Man by Walt Vail, Running Amok by Quinn Eli, Eternal Flowers by Lavinia Roberts, and Volley by Hank Schwemmer
The festival featured ten plays from playwrights across the country that cover a range of topics from free speech and the Occupy Movement, to political differences within families and a conservative perspective on the American Dream, and ultimately addresses what it means to be Republican in today's America.
"I have no qualms about the current Republican Theater Festival, especially since it may introduce some previously unheard voices to mainstream theater and I applaud it for attempting to bring infrequently heard theater viewpoints to light, even if I might not agree with them at all.  Indeed, there are two sides to every street, but all of those roads lead us to the theater, where art trumps didacticism every time, no matter the perspective."
-Huffington Post
PRESIDENTS WHO KICK ASS
Directed by Daniel Student
Starring: Lori Felipe-Barkin, Allison Caw, Sean Close, Michael McElroy, and William Touissant
On a lighter note, Plays & Players presented its next edition of the ever-popular comedy show Superheroes who are Super! This showcase, Presidents Who Kick A$$, features three election-related stories brought to life with props, sound effects and a great mix of comedy and love for the material. This time on Superheroes, Superman needs President John F. Kennedy's help to protect his secret identity; the first teenage president, Prez Rickards, weathers corruption and environmental disasters on the campaign trail; and Spider-Man teams up with Barack Obama to take on super-villains and the presidency.
BLOODY BLOODY ANDREW JACKSON
Music and Lyrics by Michael Friedman, Book by Alex Timbers
Directed by Daniel Student
January 17 – February 3, 2013
Plays & Players Main Stage
Starring: Joe Sabatino, Allison Caw, Max Cove, Jamison Foreman, Billy Kametz, Sam Nagel, Kristen Norine, Brendan Norton, Corey Regensburg, Shannon Remley,  Tim Rinehart, Meggie Siegrist, and Josh Totora
Andrew Jackson was a rock and roll GOD. He rode his outsider bad-boy image and his populist movement into office with promises to reform and representing the other America. What happened next was broken promises and a Trail of Tears.  A brazen political commentary that brings history bloodily to life, and leaves no contemporary political movement, from Obama's "Yes We Can" to the Tea Party, unscathed.
"The hilarious parallels to modern politics — Jackson promises to "take our country back" just like today's Tea Partiers — explode in a suitably loud rock score led by music director Jamison Foreman that makes Jackson a hard-to-like but undeniably magnetic amalgamation of Bruce Springsteen and Freddie Mercury. As the title promises, blood spurts freely, but the real thrill is the contemporary deconstruction of American politics, which haven't evolved much since 1828."
-Philadelphia City Paper  
THE AMERICA PLAY & OTHER AMERICAN COUSINS
By Suzan-Lori Parks (The America Play)
Other American Cousins by Quinn D. Eli and Kimmika L. H. Williams-Witherspoon
Directed by Suzana Berger (The America Play) and Malika Oyetimein (Other American Cousins)
April 4-28, 2013
Plays & Players Skinner Studio
Starring: Lindsay J. Daniels, Langston Darby, Tanya O'Neill, Kirschen Wolford and Steven Wright
From Pulitzer Prize winning playwright Suzan-Lori Parks came a remarkable story of an African-American man who looks just like Abraham Lincoln and can be shot by would-be John Wilkes Booths for a small fee. When he disappears into the "great hole in history," his wife and son go to find him. Questions of race, family, legacy, and the act of theater itself play out in a surprising and emotionally stunning journey.
World premiere short plays, Other American Cousins, named for the play President Lincoln was watching when he was shot, examined American's place in today's world and served as a prologue to The America Play.
"Parks's script is rich in symbolism and metaphor, sending up the idea of the great man of history and questioning our historical memory. Wright portrays a presidential reenactor with suitable nobility and derision, and each cast member turns in a moving performance."
-Phindie.com