"ONE"
ONE VOICE CAN MOVE THE WORLD. 
Plays & Players, a Philadelphia institution for over 100 years, offers you theater that reflects our city. In our 104th season, we take a look at what a single voice can… and can't do. Those who speak up, those who speak out, and those who remain silent. Five one person shows. A chorus of voices. Join us in these amazing stories told with passion, humor, and strength.
THE DISAPPEARING QUARTERBACK
SEPTEMBER 20-27, 2014
WRITTEN AND PERFORMED BY MIKE BORYLA, DIRECTED BY DANIEL STUDENT
"[A] highly enjoyable, attention-commanding world premiere at Plays and Players… a compelling, deeply human story that blends a dash of Spalding Gray, the existential quest of Beckett's hobos, and the beauty of a tightly thrown spiral."
-Jim Rutter, Philadelphia Inquirer.
Mike Boryla was the starting quarterback of the Philadelphia Eagles from 1974-1976. He had everything he wanted. But he didn't want what he had. Two years later, he quit professional football and… disappeared. In a World Premiere encore performance of his hit one-man show that debuted in January at Plays & Players, he returns to Philadelphia for the first time in over 35 years to tell the story of walking away from the sport and the teammates, he loved. With the average life expectancy of a professional football player reported at 55, the effects of concussions becoming ever more clear, and even our president speaking out against its future, should "America's Game"… disappear? A play for football fanatics and amateurs alike, The Disappearing Quarterback puts you inside the helmet of a unique athlete, a self-described "long-haired hippie," with a passionate purpose and a story to share as he comes home to the city that made him famous.
Click the above to read the full Philadelphia Inquirer review!
P.L.A.Y. (PHILADELPHIA LOCAL ARTISTS FOR YOUTH) PREMIERE – DREAM HOUSE (A RAINY DAY PLAY)
NOVEMBER 6-23, 2014
A WORLD PREMIERE COMMISSION WRITTEN BY JEREMY GABLE, PERFORMED BY JENNIFER MACMILLAN
Dream House: A Rainy Day Play is the second installment of a new yearly series, P.L.A.Y. (Philadelphia Local Artists for Youth), that entertains and inspires theater goers of all ages!  Jenn returns to the old Philadelphia house that she grew up in. With a thunderstorm coming, and the memories of the house haunting her, can she learn to use her imagination to fight her grown-up fears? Written by a local playwright with a focus on original and local stories, this imaginative new program offers a theatrically immersive, interactive experience for young audiences, engaging their creativity to help build and spark each performance, sharing living stories that capture the magic all around us.
Click the above to learn more about Jennifer MacMillan!
VOICES OF A PEOPLE'S HISTORY OF THE UNITED STATES
JANUARY 29-31, 2015
BASED ON THE BOOK EDITED BY HOWARD ZINN, DIRECTED BY JOHN DOYLE, PERFORMED BY BOB WEICK AS HOWARD ZINN, AND A CAST OF OTHER PHILADELPHIA FAVORITES
From Martin Luther King Jr. to Susan B. Anthony to Bob Dylan, Voices of a People's History of the United States brings to life speeches, letters, poems, and songs from the extraordinary history of ordinary people who built the movements that made the United States what it is today. See a diverse cast of Philadelphia actors bring passion and power to the words that helped end slavery and Jim Crow, fight war and genocide, advance gay and women's rights, and singularly define the American spirit.
HOLD THESE TRUTHS
FEBRUARY 12-MARCH 1, 2015
DIRECTED BY DANIEL STUDENT, WRITTEN BY JEANNE SAKATA, PERFORMED BY MAKOTO HIRANO
"The powerful and moving story of one man, who, in his own words, 'could not give up on the Constitution.'"
– StageScene LA
Hold These Truths tells a story, buried by history, of one American's attempt to reconcile his love for a country that labeled him a second class citizen. Gordon Hirabayashi's real life 50-year journey brings us the astonishing facts of Japanese Internment, the US government's orders to forcibly remove and mass incarcerate all people of Japanese ancestry on the West Coast, through the eyes of a Quaker college student who was simply looking for love and the American Dream. When confronted with the ultimate challenge to his freedom, Gordon embarks on a truly profound and brave defense of our constitution, taking him on a wild adventure of discovering his Quaker faith, hitchhiking to prison, and ultimately, challenging the law in the highest court in the land… twice.  Join Philadelphia actor Makoto Hirano as he gives voice to over thirty characters in this one-man tour-de-force regional premiere, and celebrate the triumph of the power one person has to change a nation.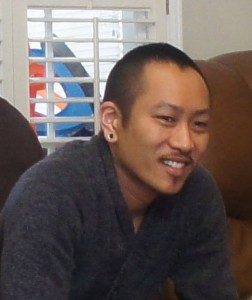 Click the above to learn more about Makoto Hirano