This season, focusing on our vision, "seeking to cultivate a sustainable relationship between Philadelphia and its local theater artists," Plays & Players branched out in a new way. We joined with other theater companies in the Philadelphia area to bring intelligent, inclusive and diverse plays to you through co-productions.
2015/16 PRODUCTIONS
ONE MINUTE PLAY FESTIVAL (CO-PRODUCTION W/ #1MPF)
The One-Minute Play Festival (#1MPF) is America's largest and longest running short form theatre company, founded by Producing Artistic Director, Dominic D'Andrea . #1MPF is a barometer project, which investigates the zeitgeist of different communities through dialogue and consensus building sessions and a performance of many moments. #1MPF works in partnership with theatres sharing playwright or community-specific missions across the country. #1MPF creates locally sourced playwright-focused community events, with the goal of promoting the spirit of radical inclusion by representing local cultures of playwrights of different age, gender, race, cultures, and points of career. The work attempts to reflect the theatrical landscape of local artistic communities by creating a dialogue between the collective conscious and the individual voice.
JUNO AND THE PAYCOCK (CO-PRODUCTION W/ IRISH HERITAGE THEATRE)
Sean O'Casey's stunning drama, Juno and the Paycock, offers a compelling look at the family conflicts of struggling Irish matriarch Juno Boyle and her Herculean attempts to keep her children safe and her husband "Captain" Jack Boyle sober despite his foolish schemes and the ongoing troubles. When offered the chance of a lifetime, the Boyles think that life in the tenements will change completely, yet things rarely go as planned. Set in early 1920s war-torn Dublin, Juno and the Paycock is the second of the Dublin Trilogy that the Irish Heritage Theatre will produce as part of its O'Casey trilogy.
Juno and the Paycock, directed by Peggy Mecham, features an exceptional cast of returning stars and talented professional calibre actors new to the Irish Heritage Theatre stage including: Kirsten Quinn, Ethan Lipkin, John Cannon, Gina Martino, Dexter Anderson, Kevin Rodden, Angelique Bouffiou, Jim Guckin, Jackie Cohen, Thomas Robert Irvin, Carlos Forbes, and David Kuong. The Irish Heritage Theatre is fortunate enough to have as its co-producer, Plays and Players Theatre.
PLUTUS (CO-PRODUCTION W/ ONCE MORE THEATRE)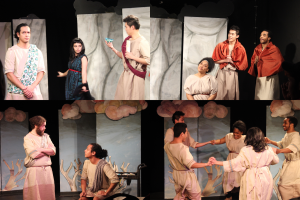 Aristophanes' rarely-seen comedy about wealth and inequality in ancient Greece.
Plutus is a political satire of Athenian culture and mores and explores the themes of wealth and inequality. In this modern adaptation, Chremylus, a fish monger and his servant, Cario, are following a blind beggar at the suggestion of Apollo. Stunned to discover the beggar is Plutus, the god of wealth, they develop a plan to restore Plutus' sight so that wealth can be distributed fairly and to the deserving. Poverty arrives to explain her important role in the human experience, but the citizens of Athens remain unconvinced. After Plutus regains his ability to see and riches are distributed, various characters, an honest man, an informer, a distressed girlfriend, and even Hermes arrive to explain the dire consequences that sudden wealth has brought to their lives. Zeus and Apollo appear to try and undo the mayhem that is plaguing Athens, but are thwarted by the Chorus.
Starring: Kassy Bradford, Jimmy Guckin, Carlos Forbes, Abrham Bogle, Paige Lyles-Edge, Evander Johnson, Zachary Chung Pun, David Kuong, Barbaraluz Orlanda and Nazeer L. Harper. Director Peggy Mecham.
MAME (CO-PRODUCTION W/ RENAISSANCE MUSIC THEATRE COMPANY)
She often proclaimed "Life is a banquet!" And to celebrate the 60 years she has dazzled us with her outrageous charm, Renaissance Music Theatre Company, in collaboration with Plays and Players Theatre, presents the Jerry Herman, Jerome Lawrence, Robert E. Lee musical Mame: A Musical Comedy.
Starting life as the fabled heroine of Patrick Dennis' 1955 semi-autobiographical, runaway best seller, Auntie Mame: An Improbable Escapade, Mame Dennis has lived the high life in Lawrence and Lee's 1956 Broadway smash, Auntie Mame, starring Rosalind Russell, and, after a two year Broadway run, Warner Brothers glittering 1958 film Auntie Mame, also starring Russell in a Golden Globe winning performance in the highest grossing film of the year. In 1966 lyricist Jerry Herman joined Lawrence and Lee for the musical Mame, starring two theatre legends, Angela Lansbury and Beatrice Arthur, enjoying a four year run and earning both ladies Tony Awards. The hit production was followed by a lavish 1974 film starring one of the reigning queens of comedy, Lucille Ball. Over the decades "Mame" has enjoyed many revivals and remains as fresh and joyous today, as the first time you heard her exuberant cry: "I'm your Auntie Mame!"
Mame will be directed, designed and choreographed by Lance Moore, founder and director of Renaissance Music Theatre Company. Mr. Moore is well known for his brilliant, revisionist productions of many Broadway classics: Kiss Me, Kate, Cabaret and A Little Night Music. The talented cast of local actors from around the Philadelphia metropolitan area will be headed by Lance Moore as Mame Dennis, Peggy Smith as Vera Charles, Patti Mengers as Lindsay Woolsey and Christine Riggio as Agnes Gooch.
AN EVENING WITH NEIL SIMON PRESENTED BY PLAYS & PLAYERS MEMBERS
From "California Suite": In "Visitor from Philadelphia," Marvin awakens to discover a prostitute named Bunny – an unexpected gift from his brother Harry – unconscious in his bed. With his wife Millie on her way up to the suite, he must find a way to conceal all traces of his uncharacteristic indiscretion.
Directed by: John D'Alonzo
From "Plaza Suite": In "Visitor from Forrest Hills," Mimsey has locked herself in the suite's bathroom and refuses to come out for her wedding. Her parents, Roy and Norma, in a frantic state and sometimes with comic attempts, work to cajole her to come out and get married!
Directed by: Peggy Connolly
Featuring some of your favorite actors including Ray Smith, Gwendolyn Rooker, Nancy Segal, Ed Miller, Audrey Serfes and more!
PLOUGH AND THE STARS (CO-PRODUCTION W/ IRISH HERITAGE THEATRE)
In this gripping third installment of Sean O'Casey's famed Dublin Trilogy, tragedy strikes during the Easter Uprising of 1916. The play centers around the Clitheroe family and their community. Wife Nora desperately fights to keep her husband Jack from joining the fight for Ireland's freedom. This dramatic historical play features a fascinating cast of characters in the midst of a critical moment in Irish history. 2016 is the 100th year anniversary of the Easter Uprising, and The Irish Heritage Theatre is proud to be commemorating it with this production.
Plough and the Stars, directed by Peggy Mecham, will feature an exceptional cast of returning favorites and very talented newcomers to the Irish Heritage Theatre including: Victoria Bonito, Harry Watermeier, John Schultz, John Cannon, Kevin Rodden, Mary Pat Walsh, Jimmy Guckin, Michelle Pauls, Ian Agnew, Barbaraluz Orlanda, Dexter Anderson, Eric Dann, Kyra Baker, Cris Welti, Mark Knight, David Kuong and Carlos Forbes. IHT is fortunate enough to have as its co-producer, Plays and Players Theatre.
THE JAWS PROJECT (CO-PRODUCTION)
Stephen Spielberg's Jaws was shot on location at Martha's Vineyard, MA in 1974. It was a legendarily disastrous production that resulted in one of the greatest movies of all time and an unprecedented financial success. Devised by Philadelphia theatre artists Robert Daponte, Mary Tuomanen, and Sam Henderson, The Jaws Project is a wicked rude comedy, an unlikely love story, and an unflinching examination of a turning point in American culture.